Harassment/Bullying & Violence Video DVD Program
15-minute video DVD
Substantial Fully-Scripted Leader Guide (Word format)
Reproducible Participant Guide 
(Word format)
Professional PowerPoint Presentation
Real-life Case Studies
Sample Policies and Risk Assessment Survey
Final Quiz and Quiz Answer Key
Glossary and Additional Resources
Training Certificate Template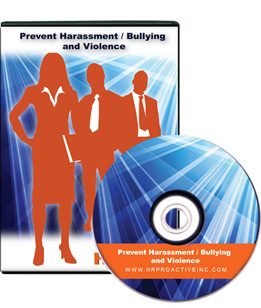 Prevent Harassment/Bullying & Violence Training Program Covers:
What is harassment & discrimination?
The prohibited grounds of protection under
Human Rights law in Canada
Psychological harassment and bullying
Sexual harassment
How harassment can turn to violence
Definition of violence
How domestic violence can spill over into the workplace
What constitutes a poisoned workplace
What to do if you are experiencing or witness harassment/violence in the workplace
Common sense standards for employee conduct
HR Proactive Inc. is here to assist you with your company's training needs.
Contact us today. We can help.